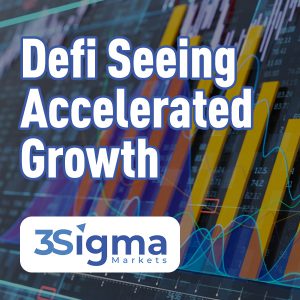 Defi Seeing Accelerated Growth
In the DeFi Compound Protocol, $15 billion worth of crypto assets are available for loans
The supply of crypto assets for lending in the DeFi Compound Protocol has risen above $15 billion. At the same time, the volume of assets involved in operations reached $9.24 billion against the background of the ongoing DeFi boom.
The founder of Compound tweeted previously that ''Compound decentralized lending protocol has reached a new record amid a "bullish" rally in the cryptocurrency market – crypto assets worth more than $15 billion are now available to borrow on its app''.
In February, this figure was $10 billion. The shares of crypto assets available for borrowing are distributed as follows:
ETH – 33.88% of the total amount,
DAI stablecoin – 19.24%,
USDC stablecoin – 23%.
These assets for borrowing are now provided by 284,845 users.
Compound is now the dominant player in the market for decentralized finance. According to DeFi Pulse, about $9.24 billion is blocked in the protocol – about 19% of the total value of crypto assets blocked in all DeFi applications on Ethereum. In second place in terms of blocked assets, the Maker protocol comes in with $7.79 billion in assets, followed by Aave with $5.80 billion.
In December last year, the developers of Compound announced that they would launch a new protocol for the interaction of blockchains, and in March they introduced a new Gateway blockchain, which will launch inter-network lending and improve the interaction of DeFi platforms. Gateway is currently running on the Ropsten Ethereum test network. Audits will be conducted before the main network is launched. The exact launch date of the project is still unknown, however we will endeavour to keep you up-to-date with all the latest developments in this hugely exciting space.